COVID-19 is a disease caused by a virus discovered in December 2019 and is dangerous to some people. It is very contagious and has quickly spread around the world.  COVID-19 most often causes respiratory symptoms that can feel much like a cold, a flu, or pneumonia, but COVID-19 can also harm other parts of the body.
Test Kits
Marion County Public Health has free COVID-19 test kits available. These test kits are not rapid tests. To obtain a test kit from MCPHD please send an email to publichealth@marioncountyiowa.gov or call 641-828-2238. Your request will be evaluated and we will call or email you with instructions for pick up. You may also obtain a test kit directly from Test Iowa.
For those who need testing for screening purposes, check with stores or on line vendors, or you may order one directly from the Test Iowa website.
https://www.testiowa.com
Travel screening, check with the Des Moines airport. Information can be found at Airport COVID Testing (
www.flydsm.com
)
If you have tested Positive to COVID-19 or have been Exposed to COVID-19 and have questions after visiting our website, please call our office at 641-828-2238 option 0. You can also contact us below!
www.covidtests.gov
has gone live as of January 8, 2022. Every home in the U.S. is eligible to order 4 free at-⁠home COVID-⁠19 tests. The tests are completely free. Orders will usually ship in 7-12 days.
Marion County residents who wish to be prepared to test for COVID at home should obtain their tests from the wide variety of outlets now available. This includes from the federal government at the website above,
www.testiowa.com
, or a local vendor who sells them. There are many illnesses circulating at this time, not just COVID-19. If you are uncomfortable or have high concern regarding current illness, it is always good advice to check with your health care provider!
The number of COVID-19 cases continue to increase in Marion County and across Iowa and the US.  Approximately 80% of the new cases are the Delta variant.  August 2 data indicates a "positivity rate" for Marion County of about 15%.  This indicates the percent of people testing positive vs. those testing negative, and is affected by the total number of people tested.  August 2 data indicates approximately 0.168% of Marion County's population has a positive test.  While there are some breakthrough cases with people who have been vaccinated, the large majority of cases appear to be unvaccinated people.  Youth ages 12 and older are able to receive the Pfizer vaccine, available at local pharmacies.  MCPHD does not and does not plan to carry the Pfizer vaccine.  Vaccine continues to be readily available. 
Individuals who wish to get the vaccination should call arrange for vaccination with a local pharmacy.
Pharmacy
Address
City
Phone Number

Marion County Public Health 

Department

2003 N. Lincoln St

Knoxville

641-828-2238

Medicap Pharmacy

318 N. Lincoln St

Knoxville

641-828-7312

Hy-Vee Pharmacy – Knoxville

809 W. Rock Island St

Knoxville

641-842-2512

Hy-Vee Pharmacy – Pella

118 SE 9th St

Pella

641-628-1280

Pella Regional Health Center Pharmacy

802 Washington St

Pella

641-628-1612

Wal-Mart Pharmacy – Knoxville

814 W. Bell Ave

Knoxville

641-828-6183

Wal-Mart Pharmacy – Pella

1650 Washington St

Pella

641-628-9227

Groups who wish to arrange for vaccination should call Marion County Public Health at 641-828-2238 x 0

The state of Iowa has discontinued orders for Public Health Departments to conduct Isolation and Quarantine.  We remain happy to assist our citizens when they do test positive.  Please feel free to call our office at 641-828-2238 and ask for COVID assistance.  Our COVID-19 email remains in place, so questions can still be sent to covid-19@marioncountyiowa.gov .    Marion County Public Health no longer calls those who test positive to do follow up and case tracking.  COVID-19 is endemic in the population.  This means it can be expected to be in the population.  Like all other routine diseases, and individuals and families need to determine how best to protect themselves from exposure.  Public health guidance in Iowa continues that families should evaluate their own risk, based on their habits and routines, and act accordingly to prevent disease spread.  In addition to vaccination for vaccine preventable diseases, Marion County Public Health continues to recommend the use of mitigation approaches, including staying home when you are sick, washing and/or sanitizing your hands, cover your cough, using facemasks per your family's decision on masking, and social distancing as appropriate.
Marion County Public Health has free COVID tests available.  If you need to arrange for a test, please call MCPHD at 641-828-2238 x 0.  Please do NOT enter the office and request a test.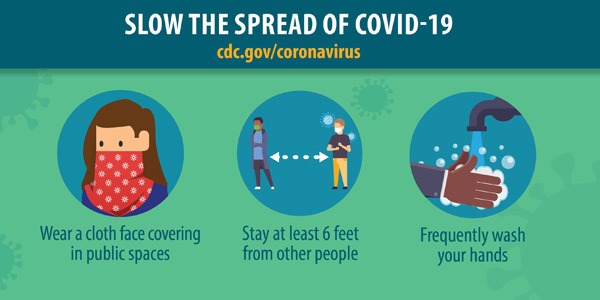 Know how it Spreads
The best way to prevent getting the virus is to not be exposed to it in the first place.
Everyone Should…
Wash your hands often,  with soap and water for at least 20 seconds especially after you have been in a public place, or after blowing your nose, coughing, or sneezing.

Use a hand sanitizer with at least 60% alcohol if soap and water are not available.

Avoid touching your eyes, nose, and mouth with unwashed hands.

Avoid close contact with people who are sick.

Stay at least six feet from others at all times.

Cover your mouth and nose with a mask when around others.

The mask helps to protect others if you are sick and don't know it.

Everyone should wear a mask when in public settings; especially when social distancing measures are difficult to maintain.

Continue to maintain social distancing even when wearing a mask.

Be alert for symptoms. Watch for fever, cough, shortness of breath, or other symptoms of COVID-19.
---
Iowa Department of Public Health
CDC (Centers for Disease Control and Prevention)
John Hopkins Coronavirus Center
---
If you would like someone to contact you, please fill out our contact form.
You can also call the Marion County Public Health Department at 641-828-2238.